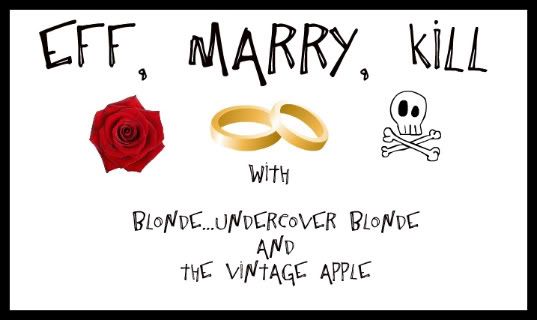 Men of the 1980s
Oh Michelle you never cease to disappoint me!!
Woot woot!
Brat Pack Edition
My Picks:
John Cusack
Rob Lowe
Andrew McCarthy
If you haven't seen Breakfast Club, Sixteen Candles, Pretty in Pink, St. Elmo's Fire,
Say Anything, Mannequin, Youngblood, then you are MISSING OUT!
These stars were considered the "brat pack" of the 1980s. Meaning they were "elite" and in high demand for movies during this genre.
Back Then in the 1980s I'd Eff: Rob Lowe
Marry: Andrew McCarthy
Kill: John Cusack (only bec he was kinda dweeby in a lot of his roles then!)
Today:
Eff: John Cusack (Hello have you seen Serendipity?! Gosh I love that movie with him and Kate Beckinsdale!)
Marry: Rob Lowe
Kill: Andrew McCarthy (he hasn't aged well poor guy...alcohol abuse over the years will do that to you)
Some of you know my little obsession with Rob Lowe. Seriously adore the man. He is a fave of mine from then to now. I love that he is POLITICAL and stands up for what he believes in!
Be sure to link up with Michelle over at the vintage apple! Click her button above!
Who would you Eff? Marry? Kill?