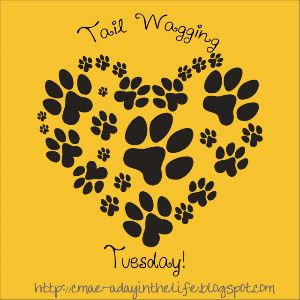 Aspen's groomer is a very young sweet guy named Kye. He ADORES my dog, and oddly enough my dog really gets excited when she goes for her monthly fluff and puff with him!
I got him (the groomer) a christmas present from Aspen. He was so shocked that I gave him a gift!
I love that look of non expecting something from someone! Made my day.
after her bath and brush, we headed straight over to see SANTA!!!!
Or should I say Mrs. Claus?
Santa didn't actually "show"-- they had a female? fill in. I was like, What!??
Well, since Santa was a no show, and I was first in line patiently waiting, AND I even brought my own camera (obviously I meant serious business if I bring my own DSLR)
They didn't charge me 5 bucks to shoot my own photo with Mr. I mean Mrs Claus? haha..
Happy Holidays to all you tail waggers!
May your days be merry and bright!
Be sure to link up your awesome Holiday photos!!! Can't wait to see everyone's festive cheer!