Howdy bloggers! It's been a month or so off of tail wagging tuesday, but today we have ourselves a link up!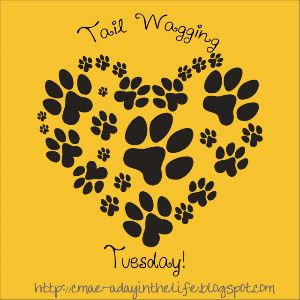 Since we haven't had it for a wee bit,

today's topic is

:
just to share some pics of your fur babies enjoying their summers thus far :)
This is how Aspen has been spending her summer. Remember, when
it's

110 degrees by noon,

here in Arizona,this is all
And our thermostat is set at 78! (77 at night)
Oh yes folks. Not only does baby girl have her own floor fan in the living room,she gets to use one in our bedroom too. Seriously though, it's always worth it. Then I don't see/hear her panting like it's to hot for her.
I get mighty mad at pet owners who I see walk their pets outside
around the afternoon times. Don't get
what I mean? slip your flip flop off in AZ and touch the cement
with your foot. OUCH!!!!!!!!!!! That's
what you will feel. It's scalding hot. Now imagine trying to force
a dog to walk on it. NO THANKS.
So what have all of your fur babies been up to? running through sprinklers? laying in doggy pools to keep cool? Endless napping? Link up to share!