Howdy y'all! It's Tuesday already?! You know what this means! Ding Ding! Time for another round of Tail Wagging Tuesday!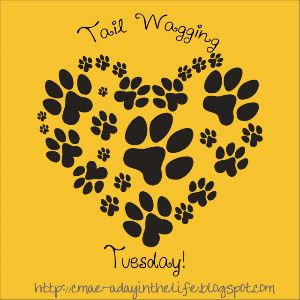 Be sure to grab my button on the side of my page to play! :)
Today's topic:
Your Pet's favorite Toy
.
I am kinda lucky that Miss Fluff and Puff aka Aspen doesn't really want any of my "Things" as toys. She doesn't even attempt to pick up shoes or carry them around. ( (She so often has a thing for stealing my panties-- I hope she doesn't think that they are a toy!)
She has her own Toy bin which is filled with at least 10 toys, but she always seems to go back to these two...
Exhibit A.
Sock Monkey
This has to be the funniest pictures of her biting her monkey. This is one of the biggest toys Aspen has! All others are a bit more manageable for her to bite!
Exhibit B.
Video.
I took this a few months back. This is her other faveeeeeeeeeeee toy. It has a squeaker in both ends so I get to squeak my end while playing tug of war! As soon as she hears me squeak my end, she usually goes after the end that I am holding because she has to have both! :)
Okay loves! Link up! A picture of your pet's favorite toy and little blurb about it! :)