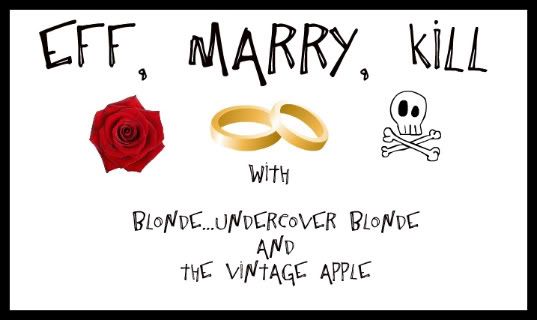 LINK UP HERE!!
Basically, you choose 3 celebrities and the other person has to choose who'd they'd like to *ahem* make babies with, who they'd like to wed, and who could disappear. I don't like to say I'd kill them. That's a little violent for me. And we always give our reasons.
Anyhow, I REALLY wanted to pick 3 guys that people wouldn't normally pick (Makes it more fun) Link ups get boring if they all pick Justin Bieber or Brad Pitt types ya know?
So without further Adieu...
My three picks are:
TV News/Entertainment Style
Joel McHale
Talk Soup Host
Ryan Seacrest
(American Idol Host)
AJ Hammer
A.J. Hammer is the host of HLN's evening show,Showbiz Tonight. He is based in CNN's New York bureau. Hammer also serves as an entertainment correspondent for CNN, hosting the network's daily entertainment reports.
I knew him from his days as a host on VH1 ! !
Which ones would you EFF MARRY KILL?
Who would I pick!?
I'd pick AJ Hammer to marry. Um hello, he's perfect.
Make disappear: Ryan Seacrest. He's super full of himself and annoying. Not to mention for the longest time I seriously thought he was well you know...batting for the other team? Not that that's a reason to kill him lol I just think he's "confused"
Eff: Joel. Reason? Gotta start somewhere to get to your mister right, Right? haha I wouldn't want to make babies with him persay, more like practice till you meet the real deal .::cough::. ..::cough::.. AJ Hammer.
(Mister Wonderful if you read this, remember this was just a totally random linkup! you're my one and only!!!) xxoxooxo