That means

Tail Wagging Tuesday

Time!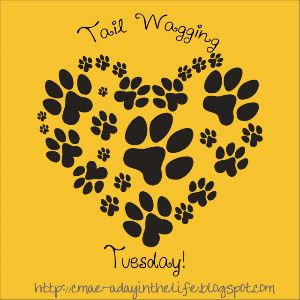 This week's topic was so graciously suggested by the fab Megan over at Mackey Madness.
Thank you Megan for all your creative juices where mine lack!

Share with us the most funniest picture of your fur child (children)
This is a great topic, but man a tough one for me!
Aspen has a pretty routine, controlled life, there isn't too much she "gets away with" as some rambunctious pups are able to pull on their fur mommas and dads!
But when she was a pup, I was able to snap this shot of her.
This bra hung from the back of my desk chair. At this particular moment, SOMEONE was pretty mad that mommy was spending more time with her back to her, so she decided she'd get my attention by playing tug of war with my bra!! Naughty girl! haha
MY other fave funny pic isn't too funny, but to me, I smile every time I see Aspen lay like this. She just looks so, well, funny to be upside down!
Show me what cha got! Link up!!!