Does Anyone know what happened to Taylor aka over at The Undomestic Momma?
She was our fabulous Host of
And somehow I fell off her blog list and when I tried to re-add her blog back, it basically says her blog is invitation only...
Then randomly another blogger said she got "sick" and has even closed her Etsy shop.
So I was just wondering if any of you actually knew if A, she still blogs, B, if she is sick sick like with cancer?
What would someone think of taking over Top 2 Tuesday?
Thoughts?
Speaking of Link ups......
BE SURE TO LINK UP FOR
TAIL WAGGING TUESDAY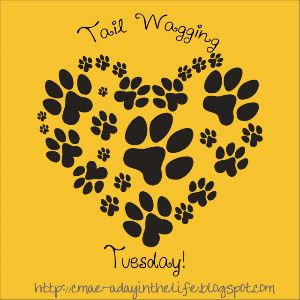 When:

NEXT TUESDAY


AUGUST 16th!
Topic/Theme:
Any pictures of your pets you wanna share
recent or old :)
Lastly:
Have y'all checked out my new button on the side of my page that has the big red line through the word: WORD VERIFICATION?
Um Yeah please check/click on it to check it out.
CLICK LINK ON SIDE OF MY PAGE.
(I'm lazy at the moment and don't feel like
linking the same image that's already on my page!)
Newbie bloggers PLEASE do this...
you will get TONS MORE COMMENTS and feedback if you don't make others who visit your page have to type all those stupid words out!
I know when I'm on my cell checkin blogs, that I don't have the time on the screen size to mess with typing those word verifications.
Ok moving on...
I know y'all watched The Bachelor Pad 2!
First gone:
Rated R Justin
And some girl named Ali who I don't even remember from Brad's Season.
Holy drama Vienna and Jake.
Honestly I thought it was a good thing that Jake apologized to her, and gave her the rose. I thought he was very man about the whole thing, and yet Vienna kept going on an on about how he's a "monster".
Best part for me of the show:
Seeing Jake pass a little 3rd grader girl who started crying when she saw him she was so star struck!
I really thought it was cool he took the time to take a photo and actually talk to her.