After seeing "The Vow" on Saturday, I walked around the mall (the movie theater was inside the mall that I met my friend at)
So I ended up in Nordstroms and there was a HERD of women hovering over the TOMS table. Lord have mercy, the BALLET FLATS had arrived!
I was eager to try them on, lucky me, a fellow helped me out right away and Bam!! I was walking up to the counter all happy to buy those TOMS that everyone goes nuts over.
Funny thing happened. I ended up returning within a few minutes.
They are cute, sure, but not the most comfortable flat I've ever tried on, and to me, that's the whole point of a shoe. TO BE COMFORTABLE. I am NOT one of those girls that wears ridiculous shoes that cost a fortune that are cute but not comfy in the least!
I just had a gut check and asked my self, am I buying these because I MUST have them?
Am I buying these because everyone wants them and they are the "Craze"?
Am I buying these because I need them or want them?
And thus I returned them. Honestly they aren't practical. I like things that are practical not just because they are hip for the moment.
I made my way down to the Tory Burch store, where I had been meaning to try on the all so famous Revas.
They were heaven from the moment I slipped them on.
THEY WILL BE a someday purchase for me that I think are WORTH the money!
Why didn't I buy them right then and there?
Um Hello...they are like 200 dollars. FOR A SHOE. I am a teacher not a doctor. Dropping that much on a shoe is a LOT from my teacher crap paycheck.
:(
sad but true.
Has anyone ever bought anything but only to turn right around and return it the same day?
I am hosting Tail Wagging Tuesday for the big V DAY TOMORROW!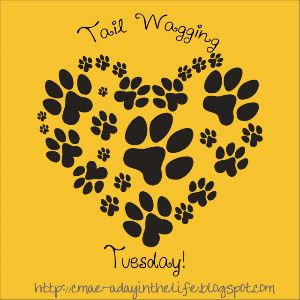 Share your fur babies and you spreading the love!